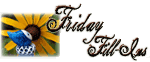 1. Ah, me...I should get away from this thing and do some housework.
2. Grilled cheese is what's on my mind most lately.
3. When I talk to my best friend, I feel happy.
4. Drinking water is what's working for me lately.
5. I recently saw The Avengers.
6. Baking fills me with joy!
7. And as for the weekend, tonight I'm looking forward to a quiet evening at home, tomorrow my plans include housework and Sunday, I want to do some yardwork!
To find other Friday Fill-Ins, go
HERE